La casa principal tiene cuatro habitaciones dobles con cuartos de baño individuales. Entre sus instalaciones cuenta con una piscina y varias terrazas con vistas al pueblo y a la sierra.
Por su magnífica situación a la entrada de Cortegana por la carretera N-435, es ideal para la realización de excursiones por los múltiples caminos rurales que circundan la zona.

Casa Principal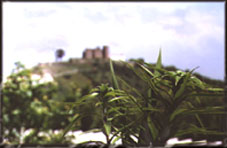 The main house has four double-rooms with single Bathrooms, swimming-pool and terraces with great views to the Village and the Sierra.
It's location just at the entrance of the Cortegana Village from the N-435 roadway, makes this Rural House perfect for walking excursions across the rural ways all around.